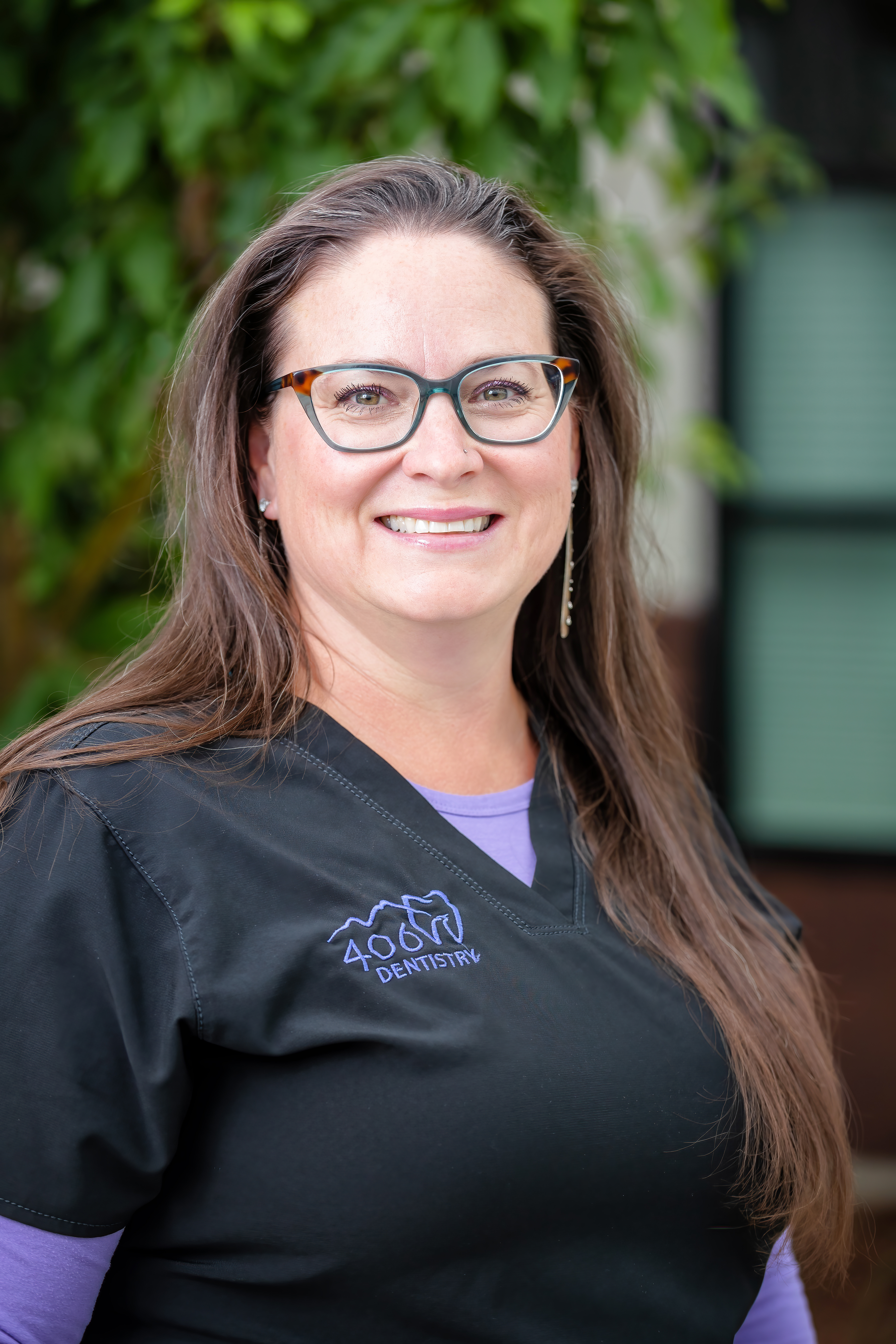 Dr. K
Hi I am Doctor K!
I was lucky enough to be born and raised in Kalispell, Montana in the old hospital on the east side but I grew up in Bigfork/Woods Bay before I moved to Kalispell in the early 80s. This was a big deal to move to town! I graduated from Flathead High School, 1992 and I spent my first year of college at FVCC before transferring to the University of Colorado, Boulder where I graduated in 1997. This was a huge deal because I was the first in family to graduate college and, especially with double degrees. This was all thanks to excellent education, amazing instructors that were passionate about their fields of research. Fortunately, I was inspired every day by my classes, the instructors, and the subject matter at hand.
After I finished my bachelor's degree, I attended Creighton University where I graduated in 2004. Dental school was a phenomenal grueling experience, but I absolutely loved it. One of my fondest memories was being on the intramural all girls league flag football team for four years!
Why did I choose Dentistry? I worked as a dental assistant while I was applying for medical school and this work experience changed my mind and heart about medical school. I had hands on experience in dentistry as an expanded duties dental assistant and I fell in love with it. To me honestly the best part of my profession is helping people and making them feel comfortable and giving them their smile that they can be proud of! Nothing is more important to me than creating a welcoming and genuine environment for my patients and having my patients be proud and excited to smile! My belief is, no matter what their dental needs are, we will get through it together!
406Dentisty allows me to provide a different style of dentistry. An approachable, down to earth experience that allow patients to connect with me and be comfortable enough to be their true self. We will never pass judgment, belittle them, or berate them. No need for any patients to be concerned about their past oral health/hygiene/neglect. It is vital that they know and feel they've come to the right place! Absolutely, nobody will ever feel shame or guilt about their smile. As a united team, we will be focusing on the goal at hand, a happy healthy mouth and beautiful smile! Often times patients will tell me that they are so embarrassed for me to see their teeth, occasionally reluctant to open their mouth and think that I'm going to be mad at them for not taking care of their teeth, that will never happen!
What makes me who I am? I think a lot of who I am as not only a dentist but as a person comes from my family. I have two brothers and I am the oldest. Luckily, my youngest brother, Joel and his wife Bethany live in Kalispell. My other brother, Myron is currently living in Portland, Oregon. Also, I have one son, and a daughter I am adopting from Haiti. We cannot wait for all her paperwork to process and for her to be home in Montana!
My family and Joel's family have so much fun together! We love to play at Echo lake, like to get wood, camp fires and family dinners. Sports is and has been a large part of my brothers lives, and my son, Tabbi is finishing middle school and desperately wants to play football for Flathead like his two uncles! Joel was actually inducted into the Hall of Fame for University of Montana for football!
As for my dental history, I have Practiced in Loveland/Fort Collins Colorado for 10 years before moving home to Kalispell, which leads me to my reasoning to creating 406Dentistry. I wanted to create my own brand and office so I can give my patients, my time, show them kindness, that I KNOW all patients and staff deserves. The level of professionalism and care I expect in an office is now attainable with the opening of 406Dentistry! I simply cannot wait to meet all the new patients and give them the dental experience they have all be waiting for!
406Dentistry is unique in many ways but one of the most important ways is, I honor dental insurance fees and will always have transparent and honest financial discussions with each patient. The partnership will be a doctor/patient team to meet the goal and desires for each patients oral health, all while creating a comfortable, warm, welcoming and relaxing environment
This is what patients can expect when coming to 406Dentristy?
Experience:

Personal experience with the doctor, comfort level to talk to the doctor about anything

Interaction with the doctor:

One on one interaction with the doctor, down to earth, Montana born and raised, I'm just a person like them

Pain control:

Anesthetic is inexpensive, I have lots of it and I am willing to use it! Prescriptions: Because narcotics are highly addictive, they are prescribed sparingly, always keeping my patients health first

Comfort techniques:

In general distraction techniques and slow injections, but an overall level of friendship and comfort knowing that we are a team

Vibe/Culture:

We are all in this life together, friendship, understanding, compassion, empathy, cooperation, lifting each other up. I am an open book and I want to provide a wholesome experience for each and every one of my patients. I loved the Flathead Valley more than any place in the world.