How Can You Maintain Good Oral Health At Home?
Posted by 406 DENTISTRY on Oct 10 2022, 10:16 AM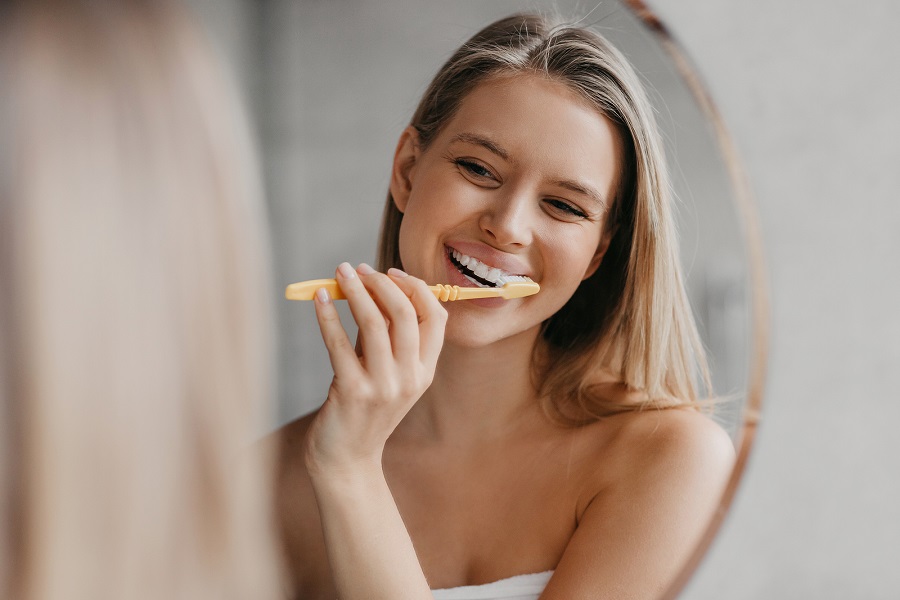 Your oral health defines the health of not only your teeth but your gums and mouth. Oral health is a major factor in your overall well-being. If your mouth is unhealthy, it can affect your health and appearance.
Oral health can be improved in many ways. Here are some of them:
Brushing Your Teeth
Brushing your teeth two times a day is the foundation of at-home oral care. This should be done for two to three minutes each time. Use a soft-bristled toothbrush and fluoride toothpaste. We recommend changing your toothbrush every three to four months or when the bristles become frayed.
Flossing
Flossing is a technique that is often underrated but is essential in the maintenance of healthy gums. Flossing removes the plaque, bacteria, and tartar buildup from between the teeth. These substances can irritate the gums and even lead to gum disease.
Rinsing Out Your Mouth
Rinsing your mouth after brushing your teeth helps to remove any remaining food particles or bacteria that are left behind. Rinsing also helps to remove any loose plaque that can build up on your teeth after brushing.
Avoiding Tobacco Use 
Tobacco use is one of the most common factors causing oral cancer. Cigarette smokers are six times more likely to get oral cancer. Smokeless tobacco users have an even greater risk. If you consume tobacco in any form, make a plan to quit. Talk to your dentist about smoking cessation aids like nicotine patches.
Eating a Healthy Diet
A balanced diet not only promotes good overall health but good oral health as well. Some foods are better for your teeth than others. For example, cheese, milk, and chicken are high in calcium, which is essential for healthy teeth and bones. Leafy greens are high in vitamin A, which is an antioxidant that helps fight bacteria and infection.
Reducing Stress
Reducing stress can help reduce the likelihood of developing gum disease. The stress hormone cortisol causes an increase in the inflammatory response. To lower the amount of cortisol in your body, try to incorporate stress-reducing activities like meditation and heat therapy. The American Dental Association recommends using warm compresses to reduce oral discomfort and swelling.
Wearing a Mouthguard
Your dentist may suggest you wear a mouthguard if you play any sport that has the potential to damage your mouth. This includes hockey, baseball, football, and even gymnastics. A mouthguard can help protect your teeth and gums from injury.
Controlling Diabetes and High Blood Pressure
Diabetes and high blood pressure are major risk factors for gum disease and tooth loss. If you suffer from one of these conditions, it is very important that you take extra precautions to ensure your oral health is protected.
Scheduling Regular Dental Checkups
Visiting the dentist regularly is the simplest, most effective thing you can do for your oral health. In fact, some dental problems can be diagnosed and resolved in the earliest stages during a simple, routine checkup.
If you want to learn more about ways to take care of oral health, visit 406 Dentistry at 1315 U.S. Hwy 2 W, Kalispell, MT 59901, United States, or call (406) 890-6364 to schedule an appointment.